Trends in Office Design for 2022
The work landscape has evolved and transformed so frequently in the past 18 months that expectations, forecasts, and aspirations for what the office should be have never been so diverse. While this is not necessarily a negative aspect, it means that where the office used to be very "9-5 home," it has now taken on an entirely new identity.
Companies are now much better equipped to support their employees wherever they work, and the uncertainty of hybrid work and what it means has faded. But if that's the case, why are companies considering the design of their offices and making their workplaces resource-rich and engaging environments? Despite workplaces seeing less day-to-day traffic, the office has solidified its value for companies during the pandemic, and the evolution it has gone through makes it an exciting prospect to redefine how we work and utilize the office
The rise of hybrid work has meant that companies have changed the way they occupy offices, but it's still attractive to large enterprises. Savills reported that central London offices reached 5.1 million square feet by the end of the third quarter of 2021, easily surpassing the total annual take-up in 2020 of 4.7 million square feet. Big Tech has also been active in the commercial real estate market during the pandemic, as reported by Forbes. Amazon, Facebook, and Google have all secured office spaces in the United States with moves seen as "indicative of long-term bets on cities and central locations, along with additional major satellite offices in key secondary markets."
What are the Office Design Trends in 20221.
Sustainability for office design
Sustainability has risen higher on the list of many commercial operations, and the same holds true for commercial real estate and office design. Companies are looking for ways to make their offices more sustainable day by day, and this has influenced the design and product design. Our recent project for the art spaces at Oxgate House in London was designed using materials only from sources within 500 miles of the site
Sustainable design begins with the procurement process; it's not just about the quantity of recycling bins you place in your office. Companies are seeking ways to make their offices more appealing to staff, which is why more time is dedicated to creating sustainable environments in line with CSR initiatives. Carbon net zero initiatives and other sustainable goals are all supported by sustainable office design. There are many ways to build a workspace with sustainability in mind. By incorporating high-efficiency systems, using LED lighting, harnessing natural light and passive ventilation, sticking to low-emission materials, and reusing or repurposing furniture, companies can easily reduce their environmental impact. Certifications like BREEAM, SKA, or LEED are excellent for assessing the sustainability of buildings and infrastructure, demonstrating how the design and construction industry can mitigate its contribution to climate change. This trend will continue to grow in popularity as it becomes a standard by which new projects are acquired, built, and sustainably designed. This will create greater expectations for contractors to understand how to design a sustainable office and the benefits this offers to tenants.
2. Technology, Data, and Connectivity
The work from home (WFH) and hybrid schemes accelerated by the pandemic, the downsizing of technology, and its broader connectivity have freed us from some of the constraints of geography. We've seen this with the multinational software company Infor. The new office includes private booths with power and data integration, flexible and dedicated desk space, breakout and touchdown areas, and a range of AV meeting and training rooms to support various forms of virtual collaboration, enabling the staff to stay connected regardless of their location.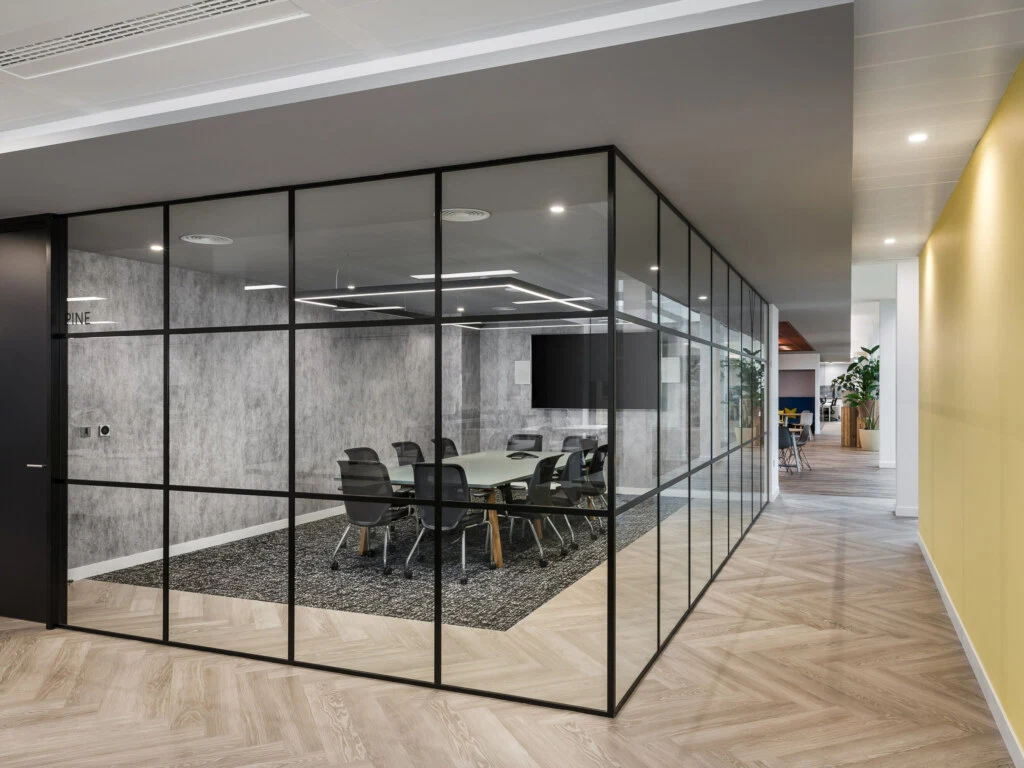 As we continue to embrace a mix of physical and "borderless" virtual meeting spaces, companies are realizing that knowledge work doesn't necessarily require physical proximity, a consideration particularly vital for businesses with a distributed or globalized workforce. The employees' dependence on digital tools during the pandemic, both for collaboration and focused work, is paving the way for the adoption of even more innovative technologies. From pop-up solutions to permanent ones, the next generation of advanced digital platforms, such as virtual reality and augmented reality, will drive many changes in 2022. The Metaverse remains a lofty concept for many of us, as it's not yet clear how influential it will be in our work lives, but it's certainly an area that will evolve rapidly once we understand how it changes the way we work and connect. With remote work becoming the norm for so many companies, data and analytics are expected to provide businesses with monitoring and tracking capabilities. While this may pose some challenges related to trust and accountability, the theory is that analytics can offer detailed insights into user experiences. Just as data is collected in the workplace to improve space utilization or energy efficiency, this technology can help bridge the gap between remote colleagues and create a positive impact on well-being and performance.
3. Neurodiverse Spaces
As companies shift toward more inclusive workplaces, there are several considerations being introduced into offices with greater intent. Neurodiversity in office design is not a new concept in the workplace and has not always had the support of employers, but the tide is turning. Neurodiversity refers to differences in our brain functions and our various approaches to interpreting information. ADHD, autism, dyspraxia, and dyslexia are all examples of neurodiverse conditions.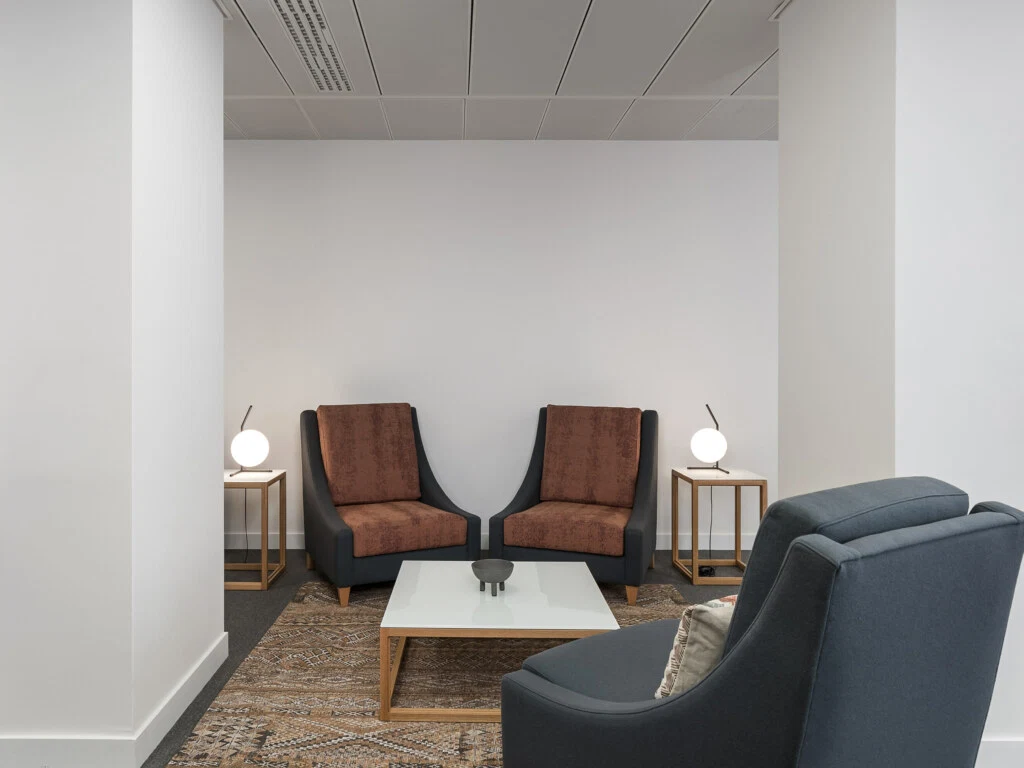 Office design should provide employees with a flexible range of spaces, offering them the choice of where to work best based on their well-being and psychological needs. Just as maternity rooms, prayer rooms, and yoga spaces are added to offices, the workplace is now becoming better equipped for neurodiverse workers. Considering that our environments enable or inhibit our ability to work, office design is a fundamental facilitator in ensuring people leverage their strengths. Designing spaces that provide support for diverse work needs is making offices more inclusive for workers on the spectrum. This includes quiet work zones, areas with sound and light control, judicious use of colors or fabrics to create relaxing spaces. These design details help make offices more inclusive and support talent attraction and retention.
4. Smart Offices
Smart buildings can collect and share data, allowing companies to better understand when and how different spaces are used. At Gymshark's headquarters, we've installed the UK's first human-centric smart office lighting system. It tracks how space is used so Gymshark can continually assess and optimize its office design as the company evolves.
A more integrated relationship with technology can also assist us as we move forward in our return to the workplace. Thermal imaging systems and touchless doors, like the ones we recently installed for Network Rail, help protect your employees from transmission. We anticipate that future touchless sensor technologies will further enable employees to move around the workplace with ease. Remote work has solidified our reliance on digital information. Smart office spaces use digital sensors to monitor and respond to factors such as occupancy, air quality, and natural light levels. Other technological solutions, like desk booking apps, will help maintain a steady flow of personnel, ensuring that only one person touches a particular desk each day and eliminating the possibility of not being able to socially distance correctly.
5. Hybrid Work and Flexibility for Office Design
The rise of hybrid work will shape the office through how we use it. Although the physical appearance of the office shouldn't undergo a drastic transformation, employees will want their time spent in the office to be more purposeful and productive. With the increase in temporary workers, the office will still be an essential part of a company's structure, so businesses will seek to maximize the available space to support this new type of work.
Remote work should remain in some capacity, so when employees visit the office, they will seek things they cannot access at home. This will drive office design to enable greater collaboration and enhance the employee experience. The office space will integrate more touch-down and agile working areas, such as benches and booths, to accommodate a fluctuating workforce. Rather than the large open floor layout of the past, the new setups must be easily resizable. The office will need to support the emerging needs of hybrid and flexible work, both in-office and for remote workers. To maximize autonomy and flexibility in the workplace, the office must serve a broader purpose than in the past. As we adopt work models that allow staff to work from anywhere, we need to consider the best way to ensure that employees remain engaged and productive throughout the workday.In 2022, we anticipate that there will be many workplace changes in office design. This will be influenced by the shift to hybrid work and the success it will prove to be, as well as how the staff will adapt to returning to the offices on a more regular basis. Although remote work is expected to remain for most companies, the office will be redefined as a destination for socialization and community building. It is likely that the office will become more easily adaptable and directly cater to people's needs.